Why HR Professionals Certify with HRCI and SHRM
Admittedly, when it comes to business, not every employee needs to earn a professional license or certification. But doing so can almost undoubtedly open up opportunities which wouldn't otherwise be possible. And naturally, Human Resource workers are no exception. Because obtaining a certification from HRCI or SHRM can increase an individual's chance of promotion by up to 37 percent. And with additional benefits like career networking, higher pay, and job security, it's clear why the two organizations certify nearly 300,000 professionals. In fact, PayScale notes 13.2% of HR administrators, 35.5% of HR Managers, and 51.1% of Vice Presidents obtain professional certifications. But how should individuals choose the right license when it's HRCI vs SHRM? Ultimately, determining the right path forward can be tricky. But knowledge is key in the HRCI vs SHRM certification conundrum.


HRCI vs SHRM: The History of the HR Organizations
Although HRCI and SHRM now represent distinct organizations, that wasn't always the case. In fact, the two have a shared history and largely comprised one body until as recently as 2014. Historically speaking, SHRM began in 1948, founded by a group of 28 individuals. However, at the time it was the American Society for Personnel Administration (ASPA), ultimately changing its name in 1989. In 1973, the Board of Directors for ASPA voted to create a professional accreditation program, known as HRCI. And the Human Resources Certification Institute officially began licensing professionals three years later, in 1976.

However, in 2014, SHRM claimed a need for competency-based certification and ended the decades-long partnership. Now, both organizations offer various certification options for HR professionals. In 2017, SHRM licensed somewhere around 100,000 individuals, though the official worldwide membership count is close to 300,000. In comparison, HRCI boasts around 145,000 licensed HR professionals. And of course, some individuals certify with both organizations. So, there is a bit of overlap in the numbers. However, not all individuals want or can afford membership with both bodies. Consequently, the question of HRCI vs SHRM certification remains. And that's where license type comes in.


Determining the Right License Type
Initially, HR professionals must recognize that the certification process differs not only by organization but also license type. In fact, there's a good chance they don't even meet the prerequisites for every available designation. Although, this might be helpful to the extent that it narrows the many options to choose from. Alternatively, individuals who do meet the experiential requirements for different licenses types might decide to dual certify with both SHRM and HRCI. Regardless, understanding the certification options is an important first step toward becoming a licensed HR professional. So, the chart below depicts the different HRCI designations available.



Although SHRM has far fewer license options than HRCI, they represent different paths. So, again, potential licensees need to carefully review each designation before determining which to pursue.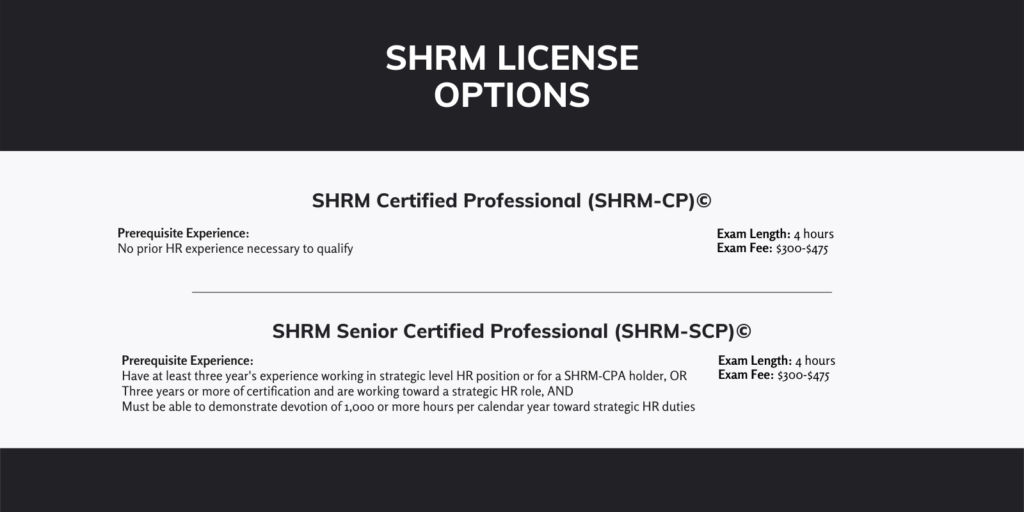 HRCI and SHRM Recertification Requirements
No matter whether an individual certifies with HRCI, SHRM or both, they are required to recertify their license every three years. And an integral part of this process is continuing education. Specifically, individual members of HRCI must earn CEUs, though the exact amount differs by license. And SHRM licensees must obtain PDCs. Respectively, these stand for Continuing Education Units and Professional Development Credits.

Ultimately, HRCI members with either the aPHR or aPHRI designation must only earn 45 CEUs every three years. Every other license type is required to obtain 60 CEUs for recertification. Although, the exact breakdown of credits differs again from license to license. For example, SPHR and SPHRi license types require at least 15 of the 60 CEUs to be business credits. And GPHR licensees have to obtain at least 15 Global Credits. However, continuing education is not the only way to recertify a license with HRCI. Alternatively, members can retake the certification exam after twelve months of certification.

In comparison, the SHRM recertification process is far simpler, perhaps because of the limited license types offered. Those who hold either the SHRM-CP or SHRM-SCP credentials must earn 60 PDCs every three years. And like HRCI members, they can instead choose to recertify by taking the exam again during the last year of the recertification cycle.


VTR Learning Can Help with Recertification
Though not all HR professionals choose to recertify their license through continuing education, many do. And for those who prefer online self-study courses, VTR Learning has plenty to offer. The bulk of our content is centered around narrative education. Which means HR professionals jump into a story to see how business principles play out in a lifelike setting. Though, for those who prefer a fast-track learning experience, we also offer educational eBooks with the same instructional content. That way, we can cater to different learning styles as best as possible. So, if you're looking for a different kind of continuing education experience, check out one of our free courses. You'll earn credit for no cost while determining whether we're a good fit for your needs.




Article written by Braden Norwood
Last updated March 23, 2023